We know it's too good to be true! So why not experience it for yourself?
Let's Find Your Ideal Solution
We offer a comprehensive suite of FinOps and cloud cost optimization solutions tailored to meet the unique needs of different customer segments.
Get Savings, Software and Services bundled together

Guaranteed savings on your
cloud bill
Guidance for cost-efficient cloud operations
End-to-end support for all FinOps Lifecycle stages

V

Zero-Touch, AI-based AWS reservation management

RI pricing for on-demand compute & RDS instances
No commitment and risk-free coverage
Buy-back guarantee of unused RIs

V

Unlock the maximum potential of AWS EDP

Additional discounts on your committed usage
Lower annual commitment
Discounted price on AWS Support

V
All these, along with complimentary access to our value-added offerings
FinOps

Support & Consulting

Establish a strong FinOps culture in your business by leveraging our Cloud FinOps offerings

Well-Architected Reviews
Cost Governance Guardrails
Defining & Measuring FinOps KPIs

V

Track, Analyze, and Optimize your cloud usage with our comprehensive cost visibility platform

Resource-level Cost Visibility
Daily, weekly & monthly cost breakups
Cost optimization recommendations

V
An end-to-end AWS FinOps and
Cost Optimization partner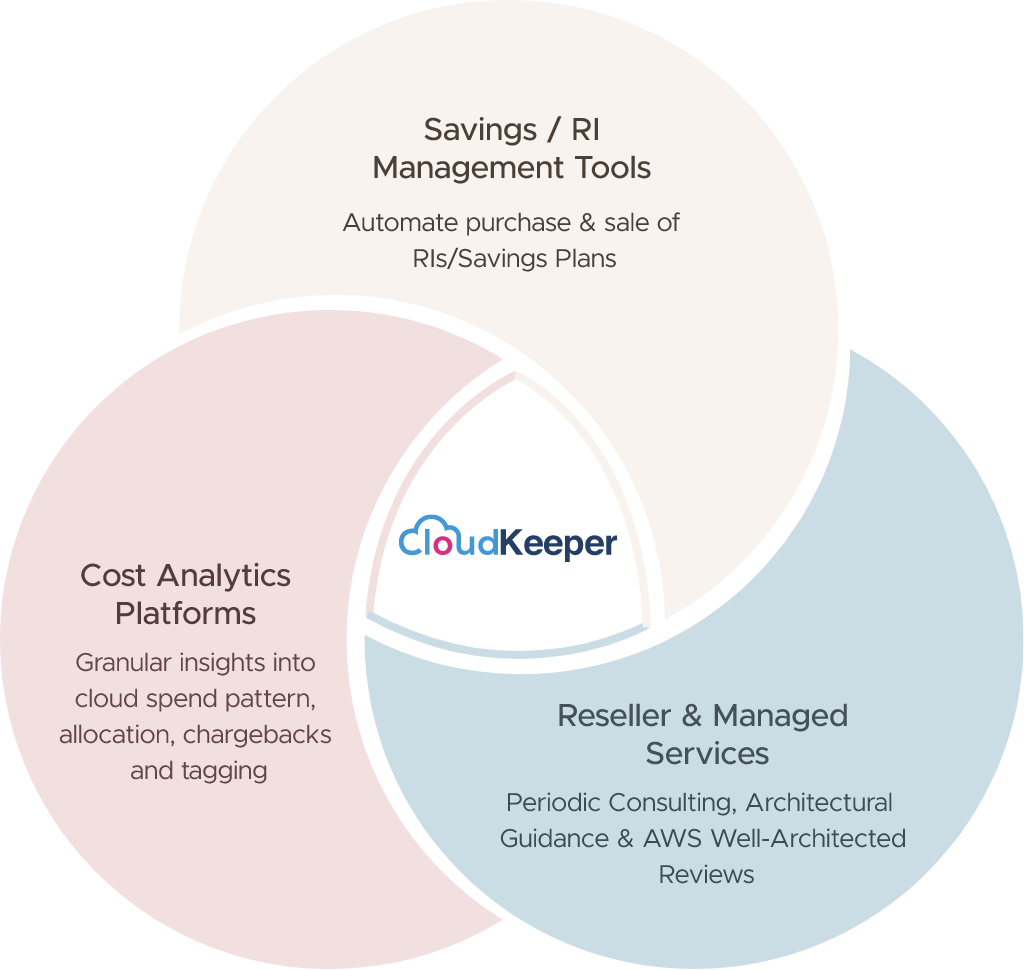 CloudKeeper stands out in the fragmented FinOps providers' space with its expertise in automatic RI management, cost analytics platform, and managed services & resellers. The ISG Research also states that CloudKeeper has proven capabilities and scale in providing FinOps solutions using a combination of platform and cost optimization services.
Learn more about FinOps Vendor Landscape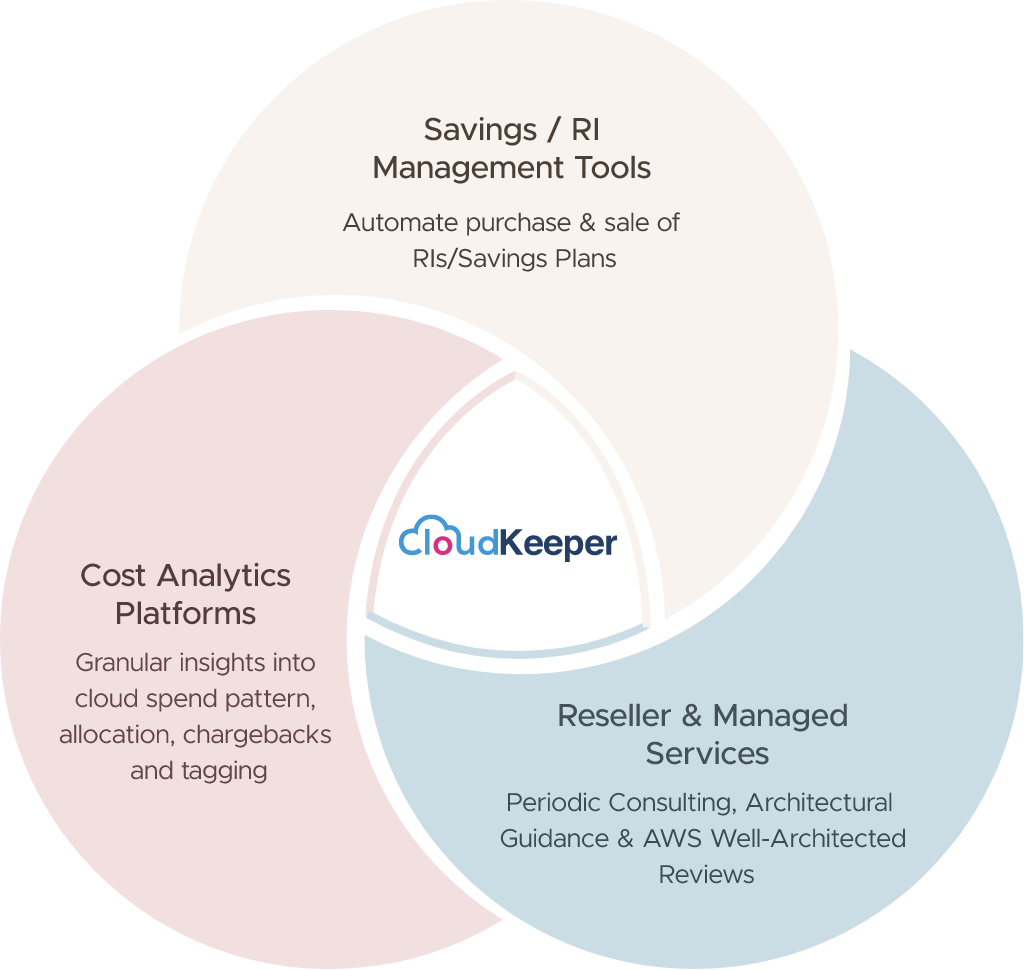 CloudKeeper is a
Premier Partner
and
Member
of the Governing Board
at the
FinOps Foundation
Learn More
Why Choose CloudKeeper
as Your FinOps Partner?
$100 Mn+
Savings Delivered to our clients
20%
Average Savings on Total Bill
300+
Cloud & DevOps Professionals
A Glimpse of Our Customers
$100 Mn+ savings delivered for 300+ customers across the globe
USA

Canada

India

Australia

SEA

Europe

Pennsylvania

Vancouver

Mumbai

Perth

Singapore

London

Los Angeles

Toronto

Mumbai

South Yarra VIC

Jakarta

Fife

Arkansas

Petaluma

Delhi NCR

Brisbane

Singapore

London

Chicago

Quebec

Delhi NCR

Collingwood

Indonesia

Alton
Recognized Globally for our Cloud Expertise
Listed in 3 out of 5 segments in IDC Market
Glance: FinOps Cloud Transparency, 2Q23
Recognized by ISG Research for its proven
capabilities and scale in providing FinOps
solutions across 14 categories
Leader in the G2 Grid for Cloud
Cost Management
FinOps Thought Leadership
Learn how to get a streamlined and cost optimized AWS infrastructure from industry experts

"Due to multiple billing accounts, initially the AWS infrastructure was really messy" - Arif Shanji - Senior VP - Engineering, Wahed. Discuss with cloud FinOps experts to minimize the cloud cost spends using the unconventional hacks.
Brought to you by, TO THE NEW:
TO THE NEW is a digital technology services company that provides product engineering, Cloud, and FinOps services to enterprises, SaaS, and consumer tech companies. Founded in 2008, TO THE NEW is one of the fastest-growing companies with a growth rate of over 60% since 2017.
8-times winner of the prestigious
Great Place to Work award

Recurring winner of Top 100
Companies to work for in India

A SOC2 and ISO 27001
certified organization

Passionate team of
2500+ "Newers"

HQed in Singapore with offices in
the US, Australia, India and Dubai

Recognised by global analyst
firms like Gartner, Everest, ISG,
and Zinnov