G2's Winter 2023 Grid® Report is here, and CloudKeeper stands strong in the top 3 spots for best cloud cost management solutions worldwide.
Grid® for Cloud Cost Management Software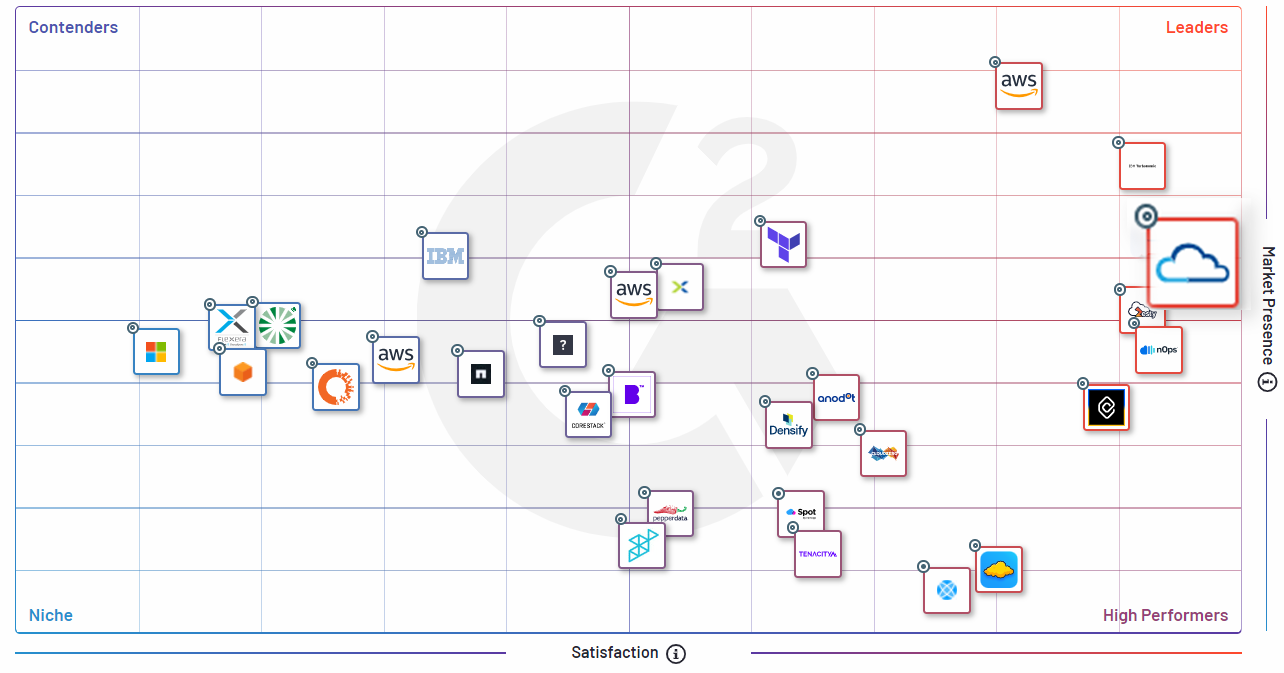 (Source: G2 Winter 2023 Grid® Report)
Why does the G2 Grid Report matter?
Every quarter G2, a renowned business software and services review platform, releases a comprehensive report that rates the players of the cloud cost management ecosystem. The report is based on authentic review scores from verified users to display an unbiased, holistic view of the world's best software companies. G2 uses an algorithm to evaluate products in the Cloud Cost Management category, taking into account genuine reviews and data collected from various online sources and social media networks.
The Grid® is a representation of the finest & leading players in the category, and we're glad CloudKeeper shines bright as a leader among them. CloudKeeper ranks third in the leader's category, and AWS Cloudwatch is in the first spot followed by IBM Turbonomic. The other leaders in the grid after CloudKeeper are Zesty at number four followed by Hashicorp Terraform and Nautanix Cloud Manager.
What makes users love CloudKeeper?
Customer satisfaction has always been a top priority for CloudKeeper. With our customers' support and feedback, we have grown to a customer base of 250+ global brands while managing 100 Mn+ AWS billing annually.
Subsequently, CloudKeeper has been named a leader based on receiving a high customer satisfaction score and having a large market presence. We have been rated #1 in user satisfaction and earned the top 3 spots in multiple parameters like compliance, ease of use, ease of setup, and ease of admin.
CloudKeeper guarantees savings of up to 15% on the entire AWS cloud bill without any commitment from the user. We also help our customers with granular insights on their AWS cloud usage and periodic recommendations & optimization guidance by AWS-certified engineers. Some of the most-loved and highest-rated features of CloudKeeper are spend forecasting & optimization, usage monitoring, dashboards, & visualizations. Furthermore, 92% of users have highly recommended CloudKeeper, while 97% of users have rated it 4 stars and more.
The satisfaction score given by G2 is based on six major attributes(refer to the below images) and CloudKeeper emerges as a champion among its competitors.
CloudKeeper also saw a lot of success in the Mid-Market space, being named #1 for Compliance, Ease of Setup, and Spend Tracking.
A few highlights from what customers are saying about CloudKeeper:
"One of the best decisions we made"
- Keshav Murali
  Head of Engineering
"We are really happy with CloudKeeper for the insight we get using it."
- Saurabh Pandey
  Head(IT Infrastructure)
"Using the CloudKeeper solution we were able to save between 7 to 10% on our AWS spend"
- Verified Customer
"We've found the product valuable, both for insights and savings. The service & support is excellent"
- Verified Customer
"Compared to other competition, their reports are more granular, and even the pricing is very lucrative"
- Ashu Gupta
  CTO
A note of Gratitude
We are, as always, immensely grateful to our customers for choosing CloudKeeper as their cloud savings and growth partner. With the continued support and trust of customers, CloudKeeper can't wait to set the bar high and serve the best as it gears to level up with some exciting & new features this year.
Read the full G2 Grid® Winter 2023 report here. To explore how CloudKeeper can accelerate your AWS Cloud Cost optimization journey, sign up for a demo here.